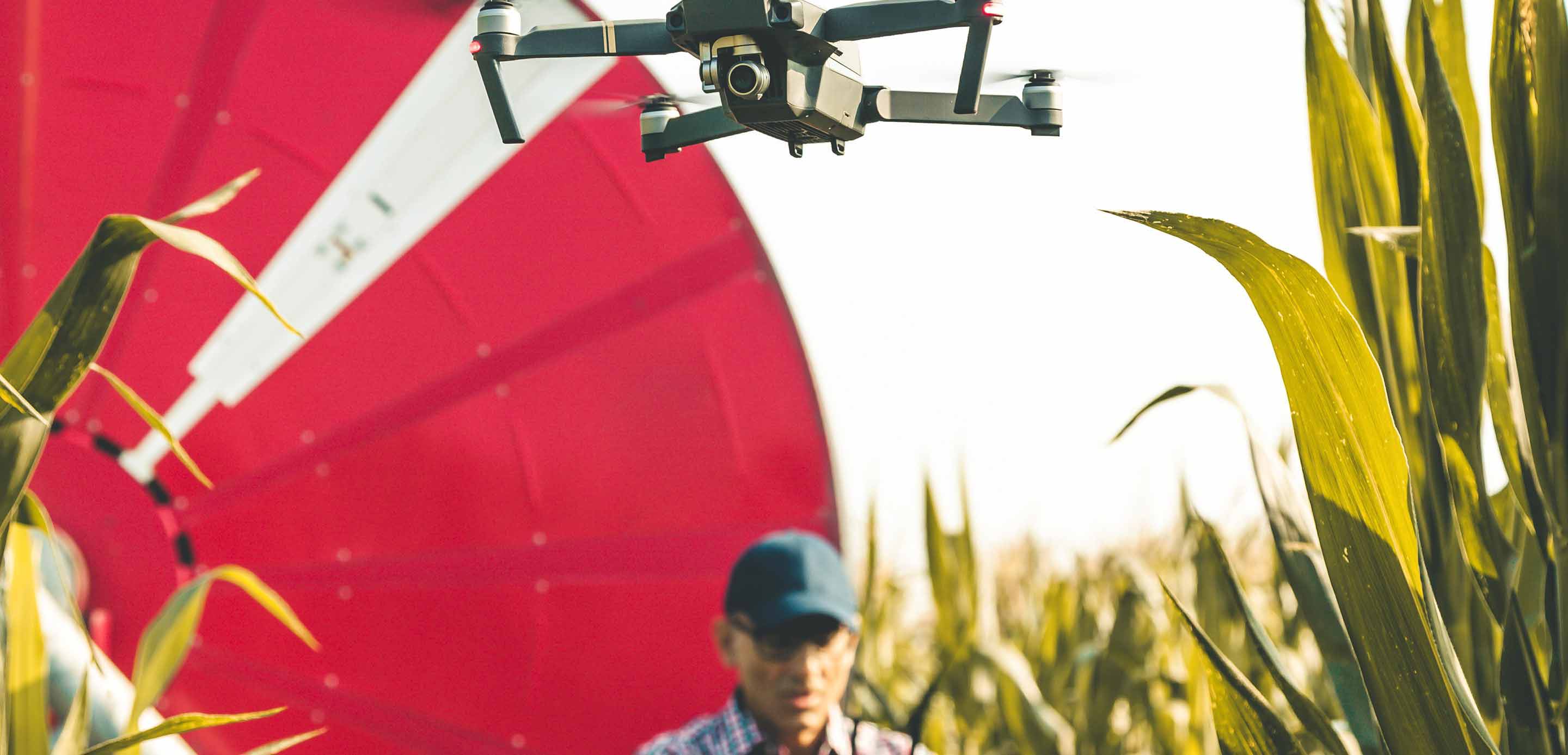 Growing my Business

Seeking New Opportunities
ESG at the heart of business innovation and continuity: The Business Times
ELECTRONIC waste recycling company TES sees its services inherently rooted in sustainability, said Eric Ingebretsen, the company's chief commercial officer.
"We are taking used material and transforming it into reusable material that might otherwise end up in a landfill. Which means sustainable practices, processes, and the mindset that goes along with it are the bedrock of our business."
TES is an example of a company that puts environmental, social, and governance (ESG) issues at the heart of its business innovation and continuity. For example, it has invested in battery recycling, which has historically been a challenge both economically and because they are defined as hazardous waste by many governments, said Ingebretsen.
The investments are timely. The growth in battery manufacturing given the proliferation of Internet-of-Things devices and electric vehicles means that such robust solutions are going to be "exponentially" more important in the future, he pointed out.
"The projections are extremely clear on the growth of lithium battery production as well as future shortages of key commodity materials that go into them like lithium and cobalt. Which makes battery recycling not only key to sustainable practices, but critical to future production as well."
To be sure, for businesses that are paying attention to ESG goals, they may have also sensed the hurdles behind such transition plans.
For example, as supply chains start to transition to a net-zero approach, product standards are often inconsistent between geographies, a white paper by HSBC and BCG published in Oct 2021 showed.
Given this situation, suppliers must often deal with multiple buyers with different requirements, which drives up complexity and expenses. From a technology perspective, many of the technologies needed do not exist yet, are not available at scale, or are too costly.
But the difficulties should not deter business leaders who are seeking out a competitive advantage. The report points out that the transition to net-zero supply chains will likely separate the winners from losers, as did previous disruptive and "paradigm-shifting" innovations in the past.
"This will involve small companies, which are often the last to change – and often through no fault of their own. For large companies seeking to bring their supply chains along with them, it will not suffice to mandate new standards. One firm's supply chain is another's business, and corporates have a responsibility to support these efforts."
That gives fresh urgency, for both large and small corporates, to start innovating on the ESG front. And to be sure, some progress has been made. What's increasingly clear, for example, is that corporates that can unearth data from within supply chains should stand out for better performance in efficiency, resilience and sustainability.
Regina Lee, head of commercial banking, HSBC Singapore, pointed out that supply chain tools in finance and logistics have, for years, focused on optimising efficiency. Today, finance is being pushed down the supply chain to ensure stability, continuity and diversity of supply and not just lower costs.
Data is also being used not only to track goods on their journey, but also to see where they came from and who suppliers are - important both for resilience and sustainability.
Given this, businesses are beginning to move away from semi-manual spreadsheet tracking of their supply chains and disruption monitoring. There are new technologies that provide more automated and efficient ways to provide that visibility.
In some sectors, such as food and clothing retailing, digitisation is already enabling anchor buyers to trace not only suppliers but also the location of goods. As yet, this only applies to certain items and is not yet universal practice, but it is an indication of what may be possible on a universal basis in the future.
"Covid-19 has certainly added extra impetus to this, in addition to that already created by climate change."
Indeed, to TES, its focus on sustainable practices has translated to among other things, increased revenues, more integrated client relationships, enhanced trust and reputation, and ultimately a competitive advantage in its industry.
"Cost is only one element of the decisions we make in implementing sustainable practices. TES focuses more on the outcomes of our investments and how that positions us for the long term. We have found that beyond the stated benefits of a given programme, initiatives in this space more closely align us with like-minded customers which often result in new business opportunities," said Ingebretsen.
HSBC's Navigator 2020 report showed that nearly all businesses in Singapore expressed broad concerns about their supply chain, mainly with regard to time spent on management, instability and possible tariffs. The priorities for Singaporean businesses in 2021 shifted to securing their supply chain and harnessing the benefits of digitisation. These are also comparatively more immediate priorities for companies here than for their global peers.
Meanwhile, HSBC's sustainable financing and investing survey 2020 showed that 87 per cent of investors polled felt Covid-19 has changed how they consider environmental, social and governance issues. Just over 90 per cent of issuers say the global pandemic has altered their approach to sustainability.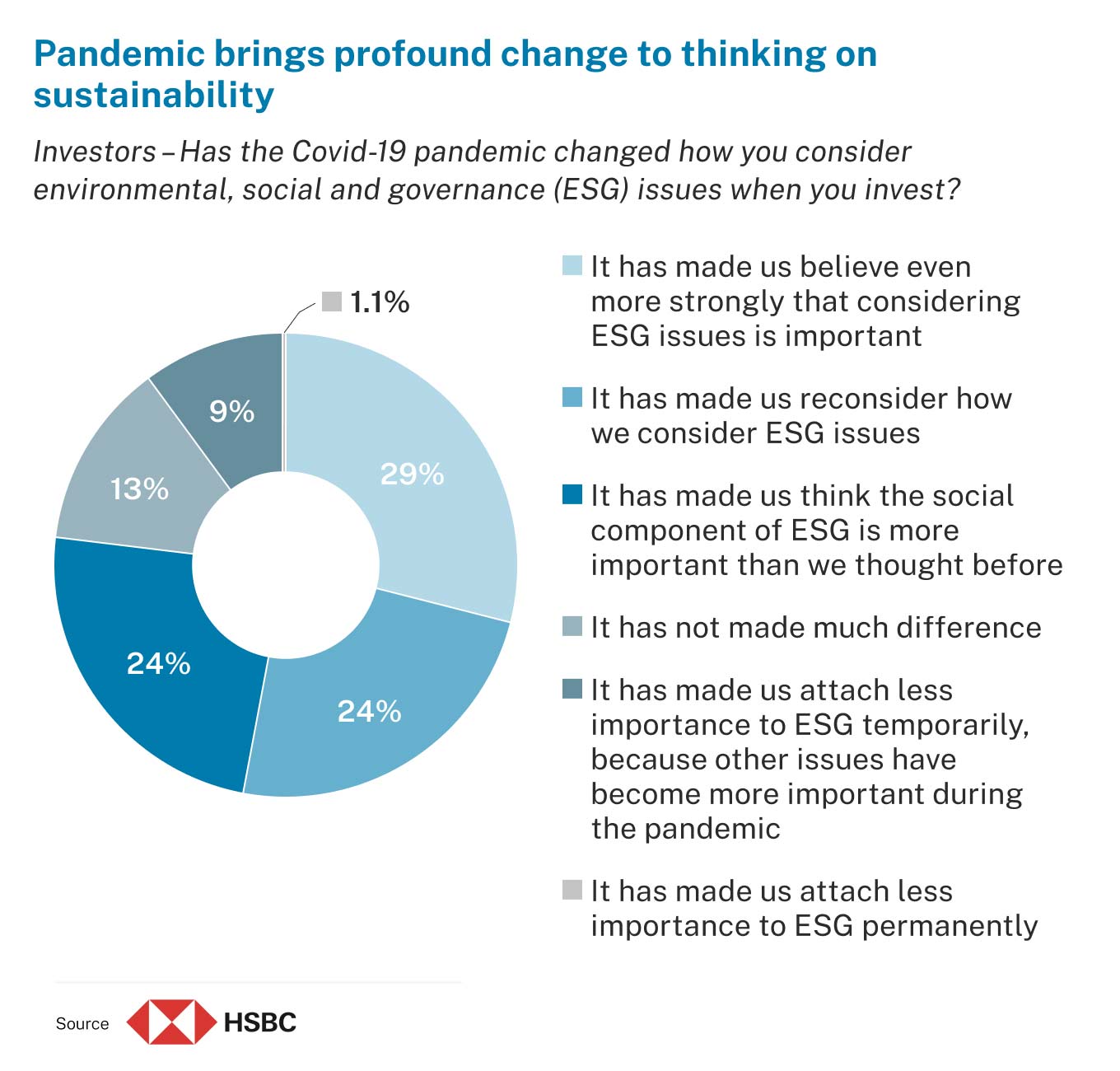 The top three drivers for investors to care about environmental and social issues are the possibility of improving risk and returns, cited by 49 per cent, the pressures from societal expectations (43 per cent) and regulators requiring it (41 per cent), the same survey showed.
In an article by the World Economic Forum, as supported by HSBC, it pointed out that corporates who act early can build a competitive advantage.
"CEOs who align their businesses to a net-zero future not only shield themselves from risks but also position their businesses for growth in new green markets. Fortunes will be made and lost in this shift," it said.
"We have already seen a sizeable transition in the power sector with the rapid decreases in wind and solar costs—some players are now reaping the rewards, while others commit to major write-downs. The rapid growth in green financing is enabling those who act now to access lower capital costs for new projects."
Amid the opportunities, the attention to ESG concerns is thus a reflection of an insurance premium against risks ahead in ignoring climate change.
HSBC's Fragile Planet report cited data from the Emergency Events Database that suggested damage costs relating to extreme events in the G20 alone totalled US$978 billion in the decade to 2018, up from US$630 billion in the decade to 2008.
The report noted that both climate change developments and the pandemic are having "profound effects" on commodity markets.
"The pandemic is expected to change some demand patterns permanently. In particular, working-from-home will accelerate digitalisation and reduce travel – with implications for oil demand. At the same time, the Covid-19 shock and the government spending programmes it prompted – plus a new US administration, the European Green Deal and Beijing adopting a net-zero target – have bolstered the momentum in global climate-change policy," the report showed.
"The intertwined nature of shifting climate change realities, policies and attitudes and the impact on commodity markets has increasingly meant that tracking and forecasting commodity market developments involves a clear perspective on climate change developments. In our view, commodity markets and climate policy cannot usefully be assessed in isolation, so much of our recent commodities coverage explicitly seeks to set out climate policy views to underpin the commodity market forecasts."
To add, government policy changes are motivating reduced carbon emissions, decreasing demand for carbon-intensive products, such as coal and oil. Instead, there is favour in commodities used in cleaner energy production, such as the battery and electricity network-related materials, lithium, cobalt and copper.
Meanwhile, the supply-side for many commodities has also been heavily impacted by changing policies and attitudes towards climate change, the report said.
"Over the past couple of years, there has been a distinct and rapid shift in corporate and investor policy. Major corporates across the world have sought to adopt net-zero emissions strategies. Large fund managers have been shifting their investment mandates, shunning investment in higher carbon-emitting technologies, such as coal mines. Financial innovations, such as green bonds, are facilitating these shifts."
HSBC will provide up to US$1 trillion in sustainable financing and investment by 2030 to support clients in their own transition to more sustainable ways of doing business.
HSBC Singapore is chairing an industry taskforce to accelerate green finance, and in 2021, piloted the Green & Sustainable Trade Finance and Working Capital (GTF) Framework, a guide for banks and financial institutions in extending green financing to buyers and suppliers.
Since October 2021, HSBC Singapore has also been offering corporate clients access to the Enterprise Financing Scheme-Green (EFS-Green scheme), as launched by Enterprise Singapore. The scheme offers up to 70 per cent risk share to catalyse lending for emerging green-growth sectors aligned to the Singapore Green Plan 2030 and which develop technologies and solutions contributing to the reduction of waste, resource use or greenhouse gas emissions.
Does your business plan have more room for the planet?
Kickstart your net zero journey with us.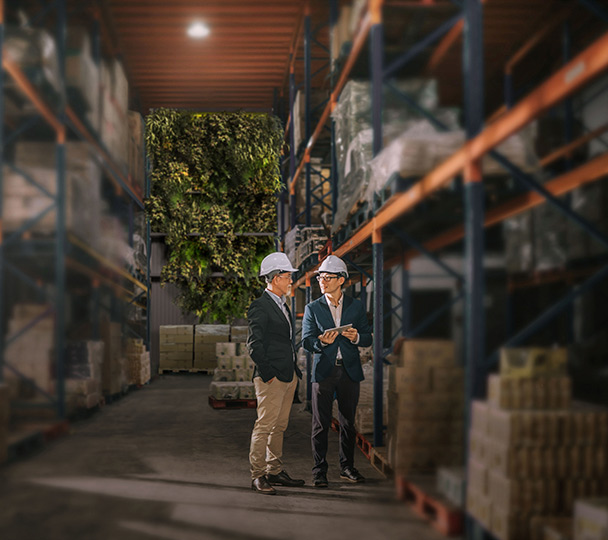 Source: The Business Times © SPH Media Limited. Permission required for reproduction.