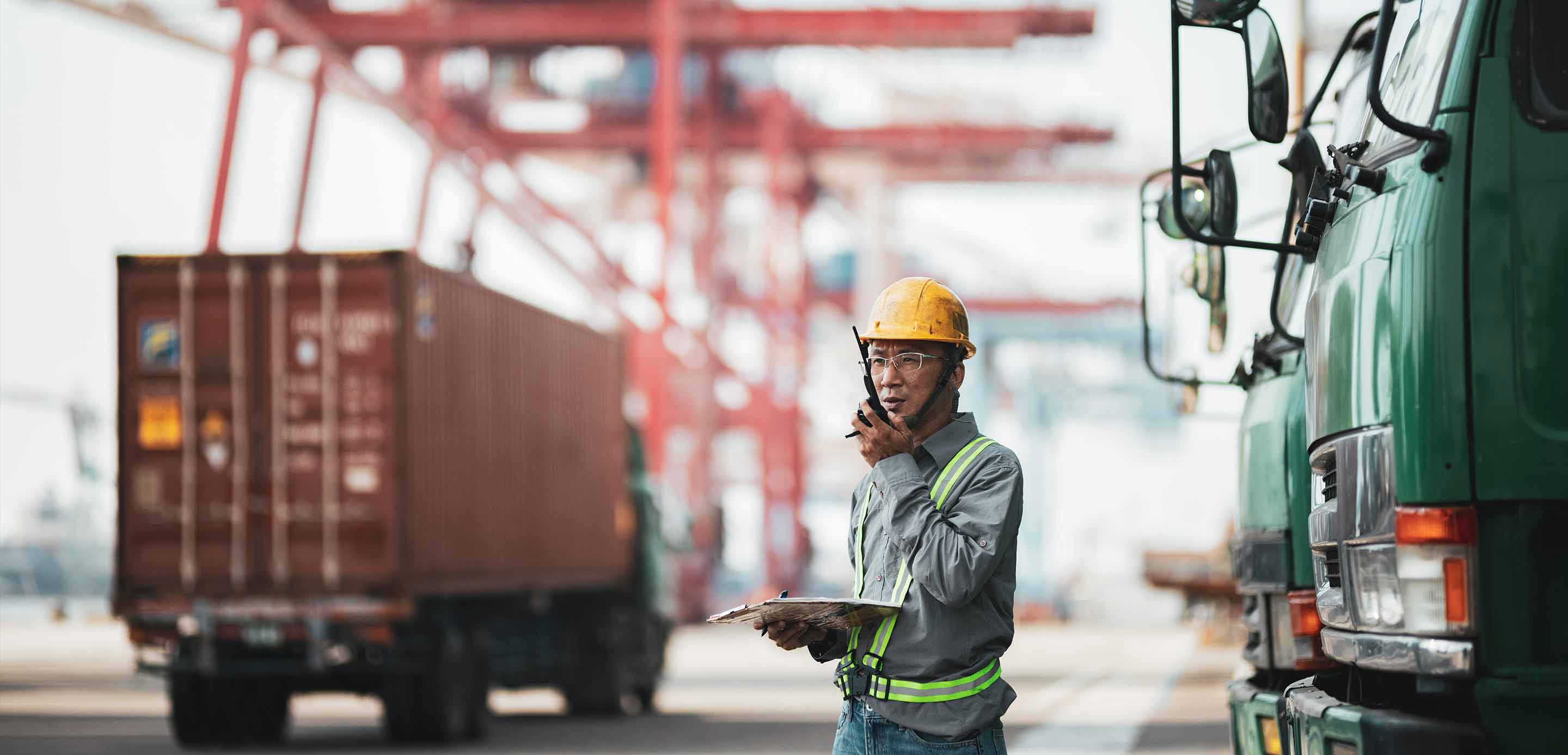 Sustainability

Transition to Net Zero
Sustainable Supply Chain
From ship to shore: How ports are helping supply chains decarbonise
The world's biggest port operators are striving to help make supply chains more sustainable and accelerate the energy transition.
Maritime transport accounts for about 2% of global greenhouse gas emissions and is not yet on track towards a zero-carbon future, according to the International Energy Agency1. But as the push for lower-carbon shipping intensifies, infrastructure providers are stepping up with solutions to help the industry reduce its environmental impact.
Some of the world's biggest port operators players have recognised decarbonisation as an opportunity to leverage their reach and influence, including Danish shipping group AP Moller-Maersk's ports division APM Terminals, Dubai-based DP World and Singapore's PSA International.
"As cargo hubs, port operators are perfectly placed to accelerate the net zero transition, because they can work with stakeholders from shipping companies to rail networks to improve fuel efficiency and optimise routing," says Jon Connor, Global Head of Transport, Logistics, Infrastructure and Construction at HSBC. "Port infrastructure is vital to decarbonising shipping by providing access to clean energy and the electrification of shore-side services."
PSA International, one of the world's largest container port operators, is working towards decarbonising its entire value chain, across scope 1 (direct emissions from its own operations), scope 2 (indirect emissions from power generation) and scope 3 (all other indirect emissions in its value chain). It has a three-track decarbonisation strategy, comprising low-carbon fuels, renewables and electrification.
PSA aims to cut scope 1 and 2 emissions by half by 2030 and 75% by 2040 from a 2019 baseline, on the way to achieving net zero by 2050. It has also been taking steps to establish a scope 3 inventory2. That is a substantial challenge, given the group's portfolio comprises some 60 deep-sea, rail and inland terminals across the world. But it also offers opportunities to support the maritime industry.
It's not just about being compliant with the requirements for managing scope 3 emissions. What we're trying to do at the same time is to find opportunities to steer and influence the industry in greening the supply chain.
"We are not only physical hubs for containers; but also digital hubs and energy hubs. We can play a big role in terms of the energy transition," he adds.
Data and digital connections
For instance, PSA has built a digital capability that launched in 2022, called Opti Arrive, that is designed to optimise berthing of the more than 60 container ships that come in and out of Singapore every day3. It creates a digital connection with vessels owned by customers who have signed up to partner with PSA for the scheme. This enables the exchange of real-time data between ship and port so that the vessel can adjust sailing speed en-route to Singapore and optimise fuel consumption to arrive just in time for berthing.
In a similar vein, PSA acquired BDP International in 2022, a supply chain, transportation and logistics solutions provider4. The newly merged entity, PSA BDP, seeks to plan the most efficient international cargo routes, which might involve switching from road to rail, a more fuel-efficient option5.
What's more, as a supply chain operator PSA is well placed to provide its customers with data for reporting on energy usage. Its Calista tool, which shares integrated data on the physical flow of cargo, includes a carbon footprint calculator.
Batteries, hydrogen and renewables
PSA is also working on decarbonising its own operations, which produced some 745,000 tonnes of carbon dioxide emissions in 2022, largely from the heavy-duty trucks (known as 'prime movers') and cranes at its ports6.
"We are putting a lot of emphasis on moving away from diesel power to electricity, particularly in Singapore," says Ng.
The company already deploys a large fleet of electric auto-guided vehicles, or AGVs. It has done so at Singapore's new Tuas Mega Port with the help of a SGD6m (USD4.5m) green trade loan made by HSBC to Singapore's Durapower Group7. The funding will help Durapower accelerate the development and distribution of high-tech energy storage solutions using lithium-ion batteries for Tuas's AGV fleet.
More sustainable borrowing looks on the cards for PSA, too. In June 2023 the company established a Green Finance Framework, which will govern green loans and bonds undertaken by its entities8.
A global effort
Elsewhere, other major operators are taking similar steps towards decarbonising their operations and supply chains.
In January 2023, DP World Jebel Ali Port and Danish shipping group AP Moller-Maersk entered a long-term partnership to collaborate on aspects of service delivery and work towards decarbonising logistics9. Under the agreement, Maersk's customers will be able to benefit from real-time information relayed by DP World to plan their supply chains better and ultimately cut carbon emissions.
DP World also launched a UK initiative in June 2023 to incentivise customers there to move imported goods from road to rail. The group said the scheme had the potential to prevent an estimated 30,000 metric tonnes of carbon dioxide being emitted per year10.
Meanwhile, APM is working to implement a decarbonisation roadmap, which includes plans to help customers, suppliers and partners reduce their emissions11.
When APM announced that it had brought forward its net zero emissions target to 2040 from 2050 early last year, Chief Operating Officer Keith Svendsen said: "We see our role as a trusted infrastructure partner rather than just moving boxes, and we will work with our local and national governmental partners to enable the development of necessary infrastructure that will benefit a wide spectrum of players who opt for green energy and/or fuel alternatives."
This determination to take action is shared by many across the ports sector. For Connor at HSBC, it signals both a growing sense of responsibility and an awareness of the commercial opportunity ahead.
"As logistics companies and their customers place greater emphasis on cutting emissions, there is a tremendous commercial opportunity for ports that are able to offer lower-carbon services and support the transition to alternative fuels," he says.
"The decarbonisation of onshore operations often requires substantial capital outlay," adds Connor. "HSBC is increasingly seeing financing demand for all these types of activity from the ports sector and stands ready to help provide funding to support the net zero transition."
Transition Pathways: Transport and Logistics
Explore more of the findings and insights on the transport and logistics sector.